Is a CMS website right for you?
A content management system, or CMS, is software that allows you to create, edit, and publish content to a website or blog without advanced coding knowledge. The opposite of a CMS-based website is a static website.
How often will content updates be necessary?
If your site revolves around content like blog posts, press releases, and videos, chances are you'll want a system that allows you to easily add new entries.
You should use a CMS if…
You're planning on making updates more than once a month.
Making changes yourself could save money.
Multiple people can update the site, meaning the task doesn't fall on just one person to make all the updates.
You don't need any web programming experience required to update.
Can be quicker for designers to change the look and style of your site, without starting from scratch.
You shouldn't use with a CMS if…
You have a small amount of content on your site.
You don't plan to update your content that frequently.
You have highly custom designs for your content.
You don't have enough time to update the site yourself.
You don't want to pay for yearly plugin updates, support or training.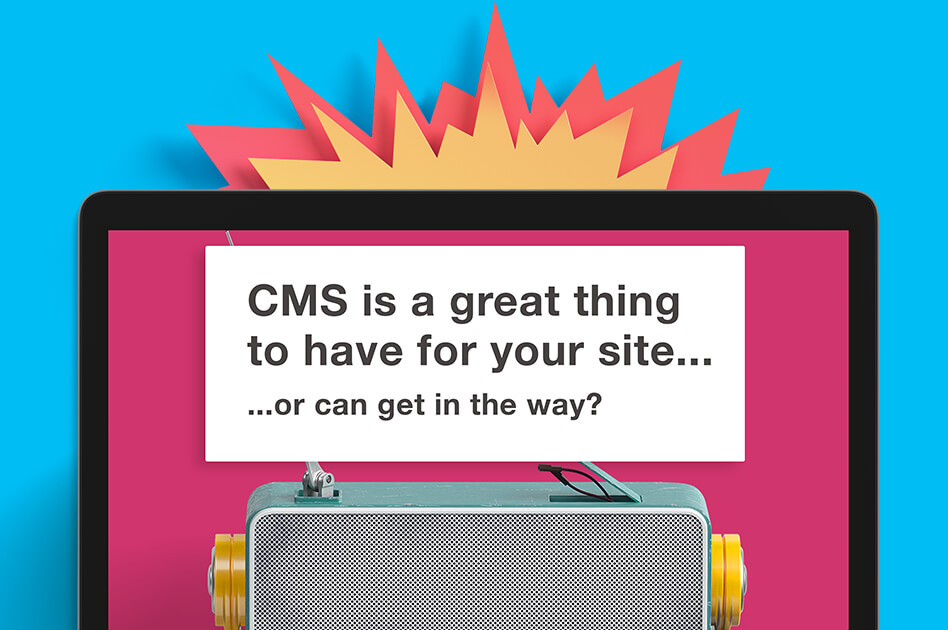 Under certain circumstances, a CMS is a great thing to have for your site, but in many other situations, a CMS can get in the way.
Security vulnerabilities, you must keep your site updated. Any plugins or firewalls must also be kept updated, sometimes at an extra cost each year.
All CMS products introduce bloat to your pages which can increase page load time and impede performance.
Some CMS products are not SEO-friendly right out of the box. This might increase any SEO costs, as it will take more time to set up and optimise pages.
Not all updates can be made on a CMS. If you want to create something on your site that deviates from the established styles, you'll need to bring a developer back in. "Simple tweaks" have the potential to snowball into a complex integration.
You might not have time to spend editing your site. Other companies don't have enough content to add to their site. I've seen many businesses spending extra money on a CMS that they never end up using.
So what is the alternative?
A file-based (or static) website always has been the best and most cost-effective type of website for businesses. They are low maintenance and almost unhackable compared to CMS-based websites. Crucially in today's world of SEO, they're lightening fast.
Conclusion
If you're making frequent changes or adding a lot of content a CMS website is a must. You would also need to keep in mind other expenses and maintenance CMS sites need e.g. updating, backing up and any plugin monthly or yearly costs. If these outweigh the advantages of adding your own content then a CMS site could be your best option.
If you're not making many updates or you don't have the time to do it yourself, then a static website would be more beneficial. They offer better security, faster load times, better SEO without spending more time and money.
If you have to choose between a static HTML site and a CMS website, the points above would help you make up your mind. If you're still confused what's best for you please contact me, I'll be happy to help you.